Techniques of Motor Cycle Road Racing - by Kenny Roberts
"You can teach anyone to be a road racer. Obviously not everyone is going to be a World Champion because there is such a thing as natural ability and that is very hard to measure. No matter how much natural ability you have, though, you still have to learn to race a motorcycle."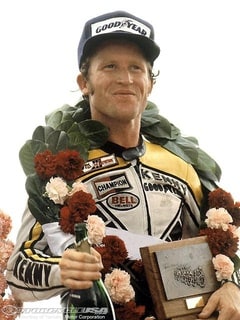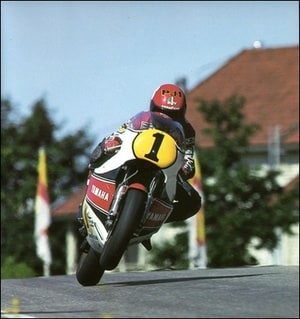 If I had been able to learn from Kenny Roberts when I started motorcycling, I probably would have had fewer crashes. Now, though, whether riding in an event or out on the road touring, Roberts' words influence my every move and thought.
"Roberts' verdict on a line, a corner, a bike, a rider, a tyre, anything concerned with racing motorcycles, is sought by every top Grand Prix rider" (Roberts, 1988, Inside jacket). Despite its age, this "bible" of motorcycle road racers by racing legend Kenny Roberts remains the definitive work on motorcycle racing and what it takes to win.
Winning motorcycle races is something Roberts knows about. In 1978, at age twenty-seven, he became the first American to win a World 500 Grand Prix title. Thereafter, Roberts dominated the World Grand Prix circuit and by 1980 had captured three consecutive World 500 Grand Prix championships. On the way to becoming "King Kenny", master racer and champion, he gained worldwide respect and accolades. Roberts continues to exert a profound influence on the shape of motorcycle racing and on a succeeding generation of rising stars as manager of his own World 500 Grand Prix team and creator of the Grand Prix machine, the Modena KR3.
The secret to Roberts' success is his use of experts for their specialist knowledge. To put this book together he appointed Peter Clifford as his editor, a road racer and author of "The Art and Science of Motorcycle Road Racing". Clifford shows us Roberts' words telling us not so much about how to race but of what he did when he raced. Other major contributions come from Peter Ingley on tyres, Dean Miller on physical training and Mike Sinclair on machine preparation. These contributions from the experts clearly reveal that the technical ability to ride fast through corners is not the only prerequisite for road racing. Critical components such as practice, bike set-up, and braking are all covered in detail.
One of these important details is that in many situations a motorcycle rider has only a split second to decide what to do. The classic Roberts' "little packets" idea, where the rider has a mental packet of actions stored away for use at the appropriate time and place, means you will never need to try to make complex decisions while staring at pain, suffering and possibly death, in front of your visor. Techniques of Motor Cycle Road Racing contains these little packets of information; reading, understanding and practising will make these part of your repertoire of automatic responses.
Along with succinct explanations of techniques, Roberts' gives us many interesting insights into motorcycling history. For example, in discussing the development of his riding technique, he recollects his early experiences as a dirt track rider. Through those experiences, combined with continuous experimentation in road racing, Roberts found that sliding off the bike and dragging his knee on the ground in the corners gave him better control. In 1971, many riders thought that was really wild. Generally, they had been sitting upright in the corners. When Roberts' riding style became fully developed, all riders in motorcycle road racing attempted to emulate it.
As far as Roberts' writing style is concerned, he comes across as a little arrogant at times and perhaps a little harsh in some of his criticisms of other riders. Maybe that is to be expected from a person with a reputation for being fiery, outspoken and candid. Overall, though, this book is easy to read and its structure is simple to follow. Roberts succeeds in giving us a comprehensive analysis of and instruction in racing techniques and an autobiographical account of how he became one of the greatest road racers of our time. Each topic he covers can stand alone within its own chapter, making it a handy reference source that can be read selectively. Every chapter is generously illustrated with photographic highlights of Roberts' career, as well as some sensational full-page colour photographs of "King Kenny" in full flight. Augmenting illustrations with time-lapse photographs is an effective technique used to show methods of picking a line, braking, and so on. These show Roberts on the bike demonstrating how it should all look at each step of the manoeuvre.
For readers interested in the pure mechanics of a step-by-step "how to" manual, then Keith Code's "The Soft Science of Road Racing Motorcycles" or his two volume "A Twist of the Wrist: The Motorcycle Road Racers Handbook" will probably do. However, if you do not want obtuse and difficult-to-read technical books, then consider Roberts' book as "Motor Racing for Dummies", except that here we get the inside line on what it takes to be the best, written by the best. No matter what sort of motorcyclist you are, if you want to improve your riding, have an interest in motorsport, or just want to learn more about a man of talent, courage and vision, then this book by Kenny Roberts is, like his riding, hard to beat.